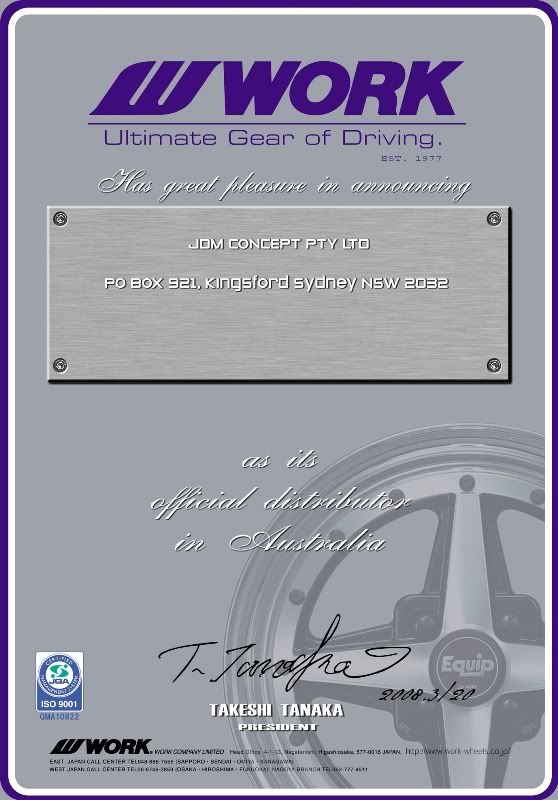 TERMS AND CONDITIONS *MUST READ*
1. By purchasing / placing the deposit for the wheels constitutes your acceptance of these terms and conditions.
2. SPECIAL END will end 30 June or if sold out, whichever comes first.
3. Price is pick-up in sydney, no more to pay all taxes paid for. [Tax invoice will be provided as proof of deposit.]
4. Lead time will be 10-12 weeks on average to land in sydney.
5. 25% DEPOSIT REQUIRED. Non-refundable and non-transferable once order has been placed. The remainder when wheels have landed in sydney.
6. Payment is via direct deposit or internet banking. No paypal or credit card. sorry
7. Buyer MUST conduct their own research and by buying these parts you confirm that they satisfy your intended use and fully aware what is needed to fit them into your car.Kindly seek advice from your local authorities on the legality of the use of these parts on the public roads or highways in your state or country as we are not be able to give you any advice on this issue. Please also read our
terms and conditions
before ordering the parts.
SPECIAL #1, 18" Work VS-KF
Work VS-KF has been officially discontinued but we managed to get a limited run for this wheels. Very limited stock.
$2500 for a set of 18 Inch wheels. Pick up in Sydney, Delivery is extra within Australia.
[F] 5-114.3 18inch, R disk, your choice of width, offset and colour
[R] 5-114.3 18inch, O disk, your choice of width, offset and colour
NOTE: Offset is governed by the spec sheet under the type of disk. If it is not listed, its not available
>>>Please click here to view VS-KF photo gallery
Center disk colour options:
[SIL] Silver - Standard
[WHT] White - Standard
[FS2] Fein Heit Silver II - Standard
[BLK] Black [ie Gloss Black] - Standard
[MBL] Matt Black - Standard
[MHG] Bronze - Standard
[GLD] Gold - Standard
[MGM] Gunmetal - Standard
[GMB] GMB Bronze - Standard
[BKB] Black burning - $25 additional per wheel
Barrel [lip] colour options:
Polished lip - Standard
Gloss or Matt Bronze anodized lip - $65 additional per wheel
Gloss or Matt Black anodized lip - $65 additional per wheel
Rivet options:
Chrome - Standard
Black - Standard
Gold - $25 additional per wheel