G1 Extreme Drift will begin its 8th Season with Round 1 on February 25th!
The 2012 Series will continue with the 3 Round format:
Round 1 - 25th February (Twilight)
Round 2 - 1st July
Round 3 - 20th October (Twilight)
However, this year the events will have a very different look.
A new addition to the G1 program will be the 'G1 Open Track'. This part of the event will be open to both G1 and non-G1 competitors running during the 4 hours prior to the main event. The session will double as a practice session for G1 competitors.

This 4 hours of open track time before each Round is included in the entry fee for those entering any of the G1 Rounds ($170). It is up to the competitors how much of the 4 hour open track they want to use to prepare for the event. There will be an exclusive practice session following the G1 Open Track prior to qualifying exclusively for G1 entrants.
For those entering just the G1 Open track the cost will be $100 which includes the 4 hours of open track time a garage for the day and a ticket into the event. This is a great opportunity for those who want to get out on track in front of a crowd and work on their skills. Also, for another $70 you can enter the G1 Comp...
This initiative makes each G1 Round a bigger event with more on track action and opens up the stage to more drifters.

The G1 Competition itself has undergone a makeover with some changes to make the events move quicker with less down time.
Qualifying this year will consist of only two runs, with no practice runs during the session. Each entrant is required to do both these runs consecutively with their best score counting as their qualifying score.

The successful Wildcard format will be back again in 2012. This format has seen many advance deep into the Top 16 after poor qualifying runs. This section of the program will start straight after qualifying and roll through quickly.

Team drift will be back in 2012! It will be replacing the Twin Drift. Team Drift will consist of a minimum of 3 cars and a maximum of 5 cars. This will give entrants a chance to show off their skills with their mates and is always fun to watch.

Following some other minor changes to the Regulations you will find G1 to have a fresh feel to it in 2012. G1 is the longest running drift comp in the country and continues to grow with the sport. We look forward to your support in 2012 as we endeavour to make this the most enjoyable and entertaining Series yet.

Congratulations to Tom Monkhouse on taking out the 2011 Championship. Tom was only the second G1 competitor to win 2 G1 titles, joining Christian Pickering. These two will be back this year looking to add a third title. There will be plenty trying to stop them and many new faces looking to make their mark on the G1 Series.

Entries for Round 1 are open for both the Competition and G1 Open Track (Entry Forms Below). There has already been considerable interest in entries so we suggest you be quick getting them in if you wish to be a part of Round1.



An extra incentive

for getting your entries in early for Round 1 is a competition developed by the Australian Swift Racing Series.
All entrants into Round 1 of the G1 Drift Series will be in the running to win a test drive in one the exciting Suzuki Swift Sport race cars. The test drive will be on the Friday practice of the Shannons Nationals Motor Racing Series at Mallala on April 13th.
There are two test drives to be won!

To win these drives there is a points system that will be in place at G1 Round 1 separate from the Championship points. The points system will work as follows;
The first lot of points available will be for the first 10 entries received for Round 1. Each of the first 10 entrants will receive 50 points.
If you are not one of the first 10 G1 entrants you are still in the mix.

The next lot of points will come during qualifying at G1 Round 1. There are only 2 qualifying runs this year at G1. Your highest qualifying run which counts as your qualifying score. A score out of 100 will be added to your 'Swift' points tally.

Lastly, each competitor's final Round score after their battles, wildcard, top 16 or wherever each competitor may finish will be divided by 4 and added onto their tally.

The two with the highest points scores will win the test drives which will be announced at the presentations on track after the final battles.
This competition allows anyone to win these drives. So you don't necessarily have to win or get into the top 16 to be in contention.
This is a great opportunity that has been offered by the Australian Swift Series. If you are interested in getting into or trying grip racing this prize is a fantastic start.

Another great incentive for 2012 is courtesy of SA Motorsport Tyres.
SA Motorsport Tyres is a sponsor of the 2012 G1 Series and is giving away a set of tyres to one lucky G1 entrant at Round 3.

To be in the running to win this set of tyres you need to have entered all 3 Rounds this year. All entrants who have entered in all 3 Rounds will have their names put in a hat. During Round 3 a name will be drawn out of the hat and announced during the day. The lucky winner will get a choice between a set of Kenda or Federal Tyres.

These are a couple of great incentives for G1 competitors this year, make sure you are involved!

DRIFT ENTRY FORM G1 R1 12.doc
546.5K
159 downloads

DRIFT G1 OPEN TRACK ENTRY FORM G1 R1 12.doc
546.5K
112 downloads
This will be a BIG year for the G1 Drift Series! With lots of changes and key sponsors on board we are looking forward to bringing you G1 with a new feel. Australia's longest running Drift Series returns Febraruy 25th!
Visit the G1 Page of the Mallala Website http://www.mallala.c...vents/g1-drift/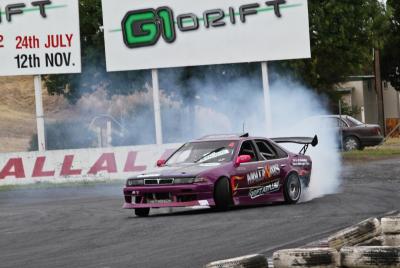 Edited by Lumma, 29 January 2012 - 08:52 AM.