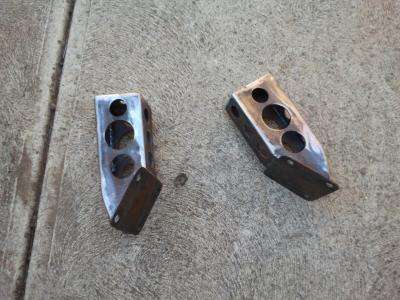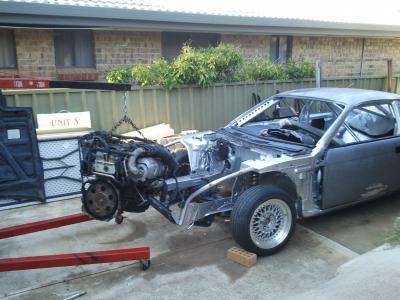 Where to start...
Here is my ride, i've been asked to start a build blog, maybe it'll help keep the motivation levels up on actually finishing this rig?
So far.
2JZ-GTE
Lots of firewall mods.
tremec T56
custom adaptor plate, flywheel, spigot bearing and tilton triple plate clutch
Kazz 2way diff
Next purchase, intercooler, radiator and front bar.
I will be building a V mount setup, with hopefully about a foot of pipework.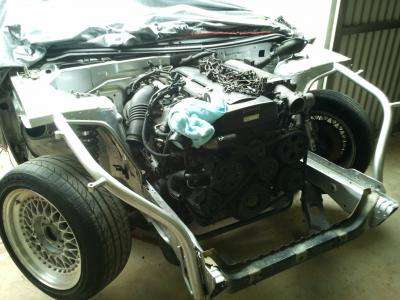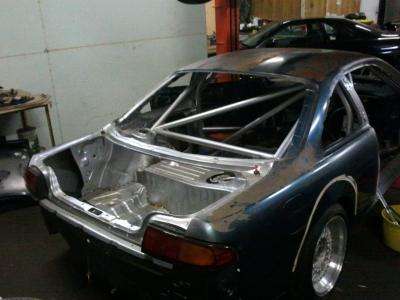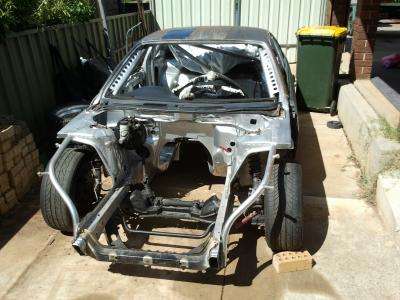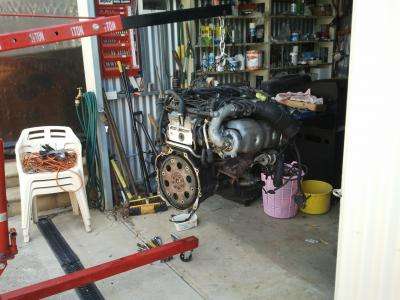 Thanks for the comments guys, will add more pics this weekend.
This is the plan for the car.
Next im building the front end, waiting for pay day to purchase rx7 V mount intercooler, al. radiator and front bar.
Im in the process off striping shit of Fred thats not needed; air con, hydrofan water pump, heater hoses for what seems like every thing etc... im also going to change the seq. twin turbo setup to a true twin, this will let me strip off a boot load of vacuum hoses. Toyota must have an Engineer who has a fetish for running every thing from vacuum hoses. I want as little hoses on Fred as possible, not for weight, but less components = less shit to fail and less spare parts. Ill be adding a non-hydro waterpump, oil filter relocation with cooler, power steering pump oil cooler. that'll have to wait to the following pay... in July lol.
After that will be brakes, im thinking R33 GTST, would love the R33 Gtr brembo's but $$$!
The engine mounts were made for a single turbs 2JZ, since I have the bulky TT setup (for now only, eventually will upgrade, once I actually get to drive it) I needed to make further fire wall mods... meaning cut more out. Now there is no room for clutch master cylinder or brake booster. So im going to run an internal floor mounted pedal box. Seat and pedal pox are the next step.
Then comes the fun part... electrics and EMS. Hopefully funds will allow a haltech with Racepak dash.
Oh, almost forgot. The fuek system is about 50% done. Ive Bosche 044 with surge tank monted in boot with standard furl tank. Now I have to make the fuel lines, im thinking of running them inside the car, at first thought it seems unsafe, but really, with a full roll cage, if the fuel lines rupture inside the car due to an accident, i've prob got bigger problems. like a brick wall or another car inside my car...
Ill take this time to mention who has actually done most of the fab work, I bought the car with the Cage and engine mounts made by Mr x, im not sure if he'll want his name on here. He built the cage, front tube work, fire wall etc...
Im going to cover in front tubs once the V mount setup is made, if room permits, ill add some duct work for brake cooling. Ill likely use 3mm al. plate. The plan is to have the front end detachable with a few bolts.
The plan is to install perspex windows, all but the wind shield.
Paint and wheels... I would like to paint it Acid green, with black and white vinyl work. Ill keep the meshies on it for now, but eventually put some buddies on it.
ill keep the updates and pics coming.
Mick
ok, heres some more pics; Flywheel, Clutch, V mount thats not happening any more becouse its too hard, oil catchcan, coolant header with overflow, true twin setup with alot less toyota pipework,
Enjoy,
I should be finished mounting the radiator, intercooler, catchcan and header tank this weekend. im picking up the rocker covers tomorrow with -6 weld ons for catch can, so the oil pipework can be done aswell... yeah, enjoy!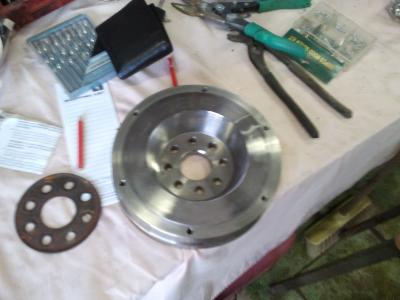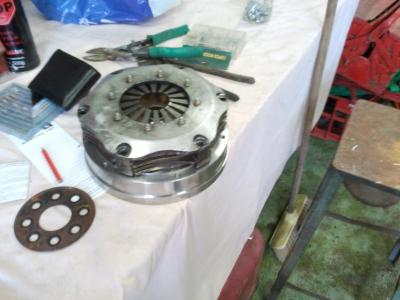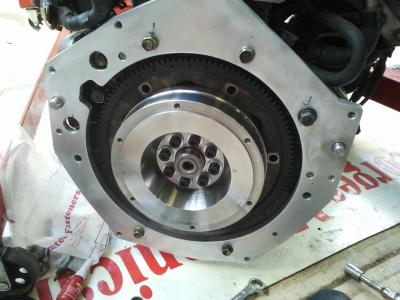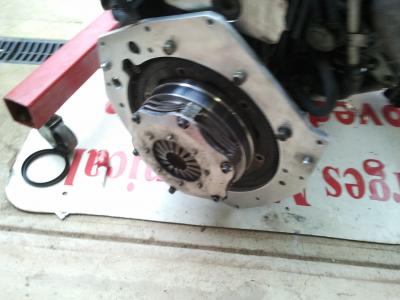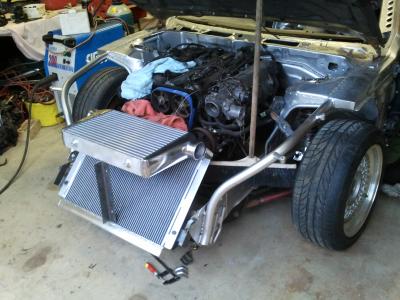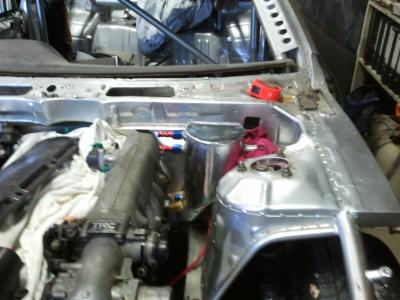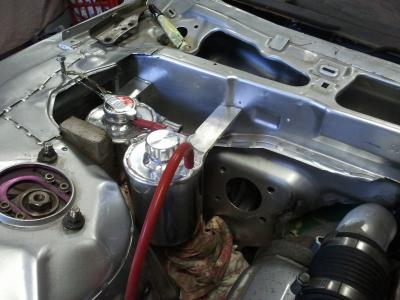 Edited by Team2JZ, 11 July 2012 - 02:22 PM.