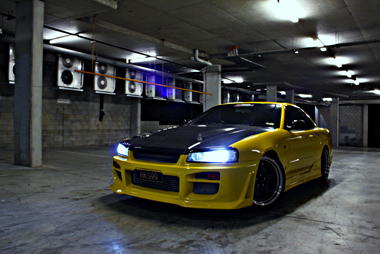 Nissan_Boy
Platinum Member
Content count

3,359

Joined

Last visited
Community Reputation
-2
Poor
About Nissan_Boy
Rank

-I LUV HATERS-


Birthday

03/03/1986
General Info
Location
Gender
Car Type
Car Model
Occupation
Extraordinarily massive list of active members......... pause........ not

Price : $1,000 Condition : New Hi guys - I have up for sale a brand new, R33 GTS-T series 2! Z-tune style carbon bonnet. This was only 1 of 5 r33 series 2 - Z-tune style bonnets that were made by a company in the states, unfortunately I cannot provide the details of the company as it was exclusively made for my ex demo race car and it was against there wish's that I provide there details. This bonnet has been sitting in my garage in the original box/bubble wrap since I bought it which has been over a year and a half. The bonnet has never even been used or bolted onto my car as I never finshed completing the car. This bonnet cost me at the time $1900.00 from the states including shipping. I'm letting it go for only $1000. If you can find a Z Tune r33 GTS-T series 2 , carbon cheaper, il beat it but I know there isn't. Thought I would post up what companies in the are selling R34. GT-T - Z-Tune bonnets for. http://www.ebay.com.au/itm/SEIBON-99-01-Sk...86a2&_uhb=1   :) Location: Gold Coast Contact: 0451 353 363 Price: $1000.00 only Pick up preferred: Will send interstate - but at buyers expense.   Please call or msg me only, as I never get time to be on the internet these days with work to check pm or emails.

Alright its probably been over a year, since and been demotivated to even drive/work on the car. So now iv finally on holidays and the motivation to get the car back in the works. Since I hardly see any imports around the coast these days, whos still active here?? Hard Parking time has come

Immmm bakkk!!!..... well sorta.. car's getting rewired/sprayed. So if there is enough interested im sure we can organize something.

Must have the cars confused. It's sat in my garage for at least a year. I purchased it from a bloke named Cameron that would have had it for a few years and Neil had it previously and he imporeted it from Japan. This would be over 5 years at least. Anyway it's a big project and requires someone with the time I don't have with renovating and work. I've picked up a registered car with a few mods to have some fun in at the track for now. Yeah must be confused with another car, the one i was looking at was only just under a year. As I still had my 2j gear and was looking for a shell.

yeah thats 3 hands in the space of a year? from when I was looking at purchasing it. Cant believe no ones finished her off yet.

Good choice, fark this things passed some hands now.

under 600 and stock power, exedy. Sports ceramic, cushion button. Hit jacky up at cj motorsport. Loved it in my 180.

nah still chillin in my garage, waiting to be sold. had about 20 *milkshakes* msg with no mula!! thanks hayz

nah the 7 has a pretty short wheel base so its easier to drive lower compared to an s15. Actually its just under legal height, can go a fair bit more lower, but my driveway wont allow me to.

haha no comparison bro!! 26b!!! f**kn i wish!!!! still waiting to win the lotto! haha Cheers comments boys soz dodgy camera phone, best i can do with photo app..

Meisters 18 x 9.5 -25 & 18 x 12 -45

i shall be there have to head to bris for b'day anyways, so might aswell take the 7 up.