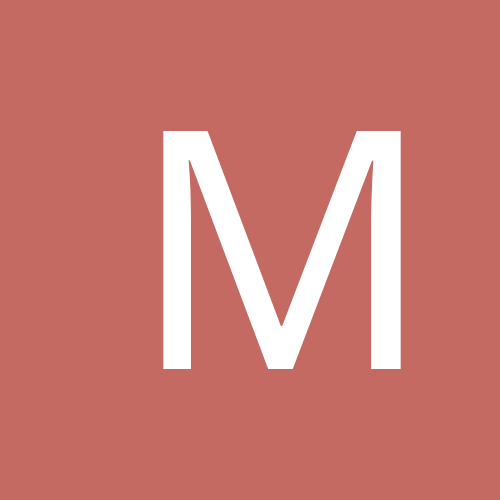 Content count

37

Joined

Last visited
Community Reputation
0
Neutral
About MFX_R33
Rank

Newbie


Birthday

09/19/1981
I am very sorry for the lack in correspondence recently. It has been a very full on past few weeks and i regret to inform everyone that MFX is closing down. No more orders will be taken, but the orders that we have already received (and have been paid for) will be honoured. I have tried to reply to as many pm's as i could today but basically if you have a kit ordered from us it will be sent by tomorow or at the latest, monday. If there are any problems or questions in regards to the people that have stuff on order from us, its probably best if you call me direct on 0407 482 363, you will have a better chance of getting hold of me. We do have a large amount of exess stock we will be selling off at a later date, but right now we just cant attend to it. We are sorry for the delays but we hope everyone understands. Keni MFX

Im sorry SX_ZX, i did not see your other PM. Yes your payment is in, however, you still have a PM from me. Keni MFX

Hi guys, I aplogise for the lack in correspondance, we did in fact only go back to work yesterday and now we are going through all the emails and matching them up with the payments.. its taking a little more time than expected as a fair few peple have just deposited the money in without any form of ID or username for us to go on.. Im trying to reply to as much stuff as i can today. there were a few payments made on the 21/12, willski i assume you are william so yes your payment is in however there was another 2 payments on that day for the same amount, one under 'bodykit' and the other with no details at all.. and on the 22/12 there was 2 payments, one under 'bodykit payment' and another one with no details.. PLEASE guys put some kind of details on there so we can identify you and your payment... SX_ZX do you have a receipt number or something so we can figure out which payment is yours?

Hey guys, Apologies for the delays replying to Pms Mail etc as you may have heard we have had quite a few issues with shipping, but you will be happy to know that we have sorted shipping out & can now quote on shipping australia wide (again). All mails & Pm have now been replied to. Regards David Bradley MFX Autostyling

nizmo bar is $220 Regards DavidBradley MFX Autostyling

so is this only while stock lasts? or is the offer until jan 31st? We did not expect such an overwhelming responce so its while stock lasts at this stage. We will be getting more S15 kits in at a later date & will kep you guys posted as to when they are avaliable. Regards David Bradley MFX Autostyling

Hey guys, To all asking for shipping details we are sorry for the inconvenience but we are undergoing a change in shipping companies at the moment (tried to jack our shipping prices way to high) so we will be getting back to you with all the new details shortly. & To all the S15 guys we have run out of stock on the non big mouth kits so only big mouth kits are left (& not many either). We are currently working on a kit for the R31 which consists of a Modified Gibson front bar & vert sides & rear, can't confirm the development time but it is in the works. Depending on how wide the guards are should be able to fit around 25mm pump with no problems. No Bonnets yet but definitely on the "to do list". Regards David Bradley MFX Autostyling

We will only be closed on the public holidays. M-FleX2 combines a set percentage of flex compound not only in the resin but the gelcoat also, along with this addition a soft fine line fiber has been chosen to compliment the this combination allowing more overall flexibility. David Bradley MFX Autostyling

These are our new generation of flex materials so they are "M-FleX2" products. Regards David Bradley MFX Autostyling

MFX Autostyling has relocated & is now open for business at our new premises. Unit3B/380 Hoxton park RD Prestons Industrial To celebrate MFX Autostyling is having a sale across our complete range until the January 31st, with full kits from as little as $450 have a look at our range at our website www.mfx.com.au or scroll down for itemised deals for NS.com members & we still offer Australia wide delivery for your convenience. Please feel free to post/pm any questions you have or email us at info@mfx.com.au David Bradley MFX Autostyling 180SX vertex full kit $450 180SX bigmouth full kit $500 S13 bigmouth full kit $500 S13 Vert full kit $450 S14full kit $450 S14 Bigmouth full kit $500 S14a full kit $450 S15 full kit $450 S15 Big mouth full kit $500 R34 D1AU full kit $550 R33 D1AU kit/tyrant front bar $550

Hi Decimal, Sorry all of our kits are made in black gel-coat. Pilotboy, you have a PM. Jeff.

No problems guy's. PM's sent. Thanks, Jeff.

I don't think the drift wing would fit straight on the cressida, but I am sure you could modify it to fit, depending on how much you are willing to play around with it. Our M-FleX materials will still crack if you hit it hard enough, like anything. It has proven to be much more flexible, and resillient than normal fibreglass. One of our sponsor cars drove over a kangaroo at speed and came away with only a little crack, where an FRP bar would have desintergrated. Our parts can still be prepared and painted like any other fibreglass body kit, and if you do happen to smash it, it can still be repaired like normal fibreglass. The Ceffy kit is waiting on our donor car to come back in for final fitting The AE86 kit is front bar skirts and rear pods. We have a full rear bar coming available in the next few weeks. Jeff.