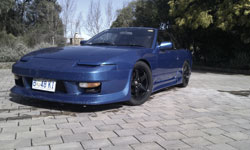 Content count

50

Joined

Last visited
Everything posted by Trinh
nope, the bonnet doesn't move at all, there's slight movement in the pulling lever but not a lot. i'll give the pushing on bonnet a crack tomorrow

i recently put those black house ebay projectors on my 180, output is very bad, i decided to try and get HIDs to see if it makes it any better, will let you know if it does.. should be in next week

i thought it was pretty good, but then again i'm from Tas and the car shows down here aren't much more than 10 cars anybody else see the mighty mods dance off comp thing? guy in the red hoody was sick

http://www.facebook.com/shay.trinh#!/album.php?id=590023156&aid=204249 posted my album for everyone to see took a video of the mighty mods dance off comp, the guy in red was awesome, couldn't be bothered waiting hours to upload the video though

meh, i don't actually go on here posting all the time, just to read, fine, i'll leave it at that

calm the f**k down, i was SEARCHING, and found the thread, whats the problem with that??

hey, very nice 180 where'd you get those headlights from and whats the output like? they look similar to the ebay ones Trinh

Hey, what's the difference between the raybrig clear headlights and stock ones? do they just output more light? Trinh

Hi, I'm looking to get these rims: http://www.ozzytyres...t-35A-White.seo in 18x7.5 size and I emailed ozzytyres got a quote and tyre size etc from them, and they have suggested 245/40/18 Does that sound like the right size? I did a bit of searching and calculating, I went to the Tire size Calculator and did a comparision, i used 205/60 R15 as the stock tire (is that correct) which i got off the S13 Silvia Tuning site. and the result i got was that the speedometer would read 4.2% slow.. Looking at the grid thing from the S13 Silvia Tuning site, the sizes 215/40/R18 or 235/35/R18 seem to fit better in terms of the speedometer (+/- 1%). Which do i go with, the company or with what i found? Cheers Trinh

how much/far would i need to get the guards rolled?

I just had a look at your 180, and that's pretty well how i want it look, width wise, maybe i should jsut stick to 17s looks great. thanks for the response

ok, so i've changed my mind and have decided to go with drift teks. instead of making a new post i thought i'd just add to this. now what i would like to know is if i can get 18x8.5 (front and rear) drift teks offset +34 under the guards? or would i need to roll them? I had 235/45/17X8 and they sat almost flush with the guards, I did the offset calculator and it says it'll extend an extra 10mm which tyre size would be better? 215/40/18 or would 235/35/18 be better? Cheers

it's a pain in the arse looking for 18" rims cos i've got 4 stud, Cheers for the help guys, i'll keep looking, may end up sticking with 17"s

i jsut like those rims, haven't found them anywhere else, guess i'll have to look at other styles,

so.. go with what i found?

i'm having the same issue, but it's happened after my mechanic recently put in/replaced the follow (had to pass inspection and apparently couldn't pass without these): right-hand rack boot Tender Springs Caster bushes i'll keep an eye on this thread, hopefully someone has the answer,

Hey, you end up getting these? how were they? Trinh

Hey, could someone please throw these rims on my car, not sure if i want them or not, just wanna have a look, will probably end up with http://www.ozzytyres...l%2035a%20W.jpg as i like the white rims Cheers edit: whoops, might help if i actually add the rims i want chucked on ok, can't upload the image, here's the link http://media.photobucket.com/image/samurai%20sc05/alexsiong1129/displaybigImageaspx.jpg

Hey All, i've got a 180sx 1994 and i can't seem to change the speed of the fan on the inside, the A/C works and so does the heat, cos i can feel it coming out as if it were on 1, but when i push the fan button it doesn't blow out air any faster, but the screen shows the fan changing speed it's a digital centre console, also some of the lights don't work on there, actually the only one which does is the button that changes where the air comes from, ie head, head and feet, windscreen. any ideas? Cheers

where would the pollen filter be located? what's it look like? Cheers

hey all, needing to get new rims for my 180sx and i'm looking at 18" size, 4 stud still. I had a look at Taleb Tyres and found a set I kinda like, the Samurai SC05's, got a quote and apparently they're on special and i can get them for $1300 delivered to tassie including rubber, this kinda seems cheap to me esp for 18's?? What are they like to deal with?? Also the tyres they come with are 215x35x18 Nexen or Achilles ATR Sports, what are these tyres like? just as a comparison, i got quoted by bridgestone for $295 a rim and they said the range of tyres prices are from $179 to $380. this cars only for street driving. Any advice would be great Thanks in advance Trinh

well it looks like i'm getting the tyres for free.. maybe i'll see how much just the rims are and get a decent set of tyres locally

i guessed they'd be cheap, but for the whole set for $1200 (+ $100 del) sounds too good to be true?

hmm, i'm only 170, but i still felt sorta high up, is there anything that can be done to go lower?

hi, thought i'd bring this back instead of making a new one. Do the R33 seats move up and down? i test drove a 180sx recently and i felt i was sitting quite high, but forgot to check if it moves up and down. any ideas?